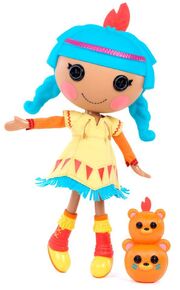 &nbsp
Feather Tell-A-Tale. is part of the QVC Christmas in July Sale.
Feather Tellatale is a rumored full-size doll that is to come out later this year. There is no information regaurding her personality, home, sewn information at this time. She was first discovered on a picture that shows some of the newest Lalaloopy dolls released.
Feather lives in a tribe in america she hangs out there her room is a brown tent in the middle of the tribe is a campfire she lives near a lake where she gets water and also lives next to a forest.
Feather's pet appears to be a play on the totem pole. It consist of two round orange bears stacked on top of each other, with the one on top being smaller with a piece of hair between its ears. The bears are sitting on top of a stump and have plain black button eyes and blue cheeks, possibly makeup.
| Type: Full Sized Doll | |
| --- | --- |
| Sewn From: A real pair of moccasins | |
| Sewn on date: April 27th, (National Story Telling Day) | |
| Pet: Totempole Bear | |